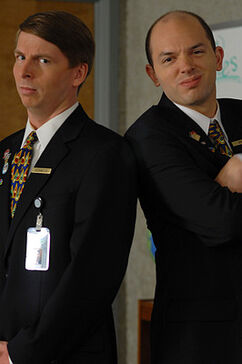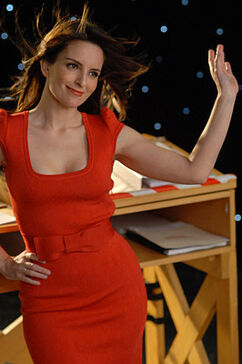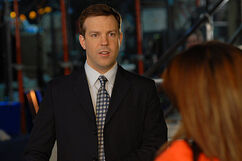 Liz gets a phone call from her ex-boyfriend Floyd, whose flight has been cancelled and needs a place to stay overnight. After a decision by the Board of Directors', Jack is demoted down to the 12th floor causing him to question his future with the company. Meanwhile, it's Annual Sandwich Day at TGS, and the Teamsters give delicious sandwiches to the staff from a mysterious sandwich shop in Brooklyn. Liz is furious when her sandwich is stolen forcing Tracy, Kenneth, Jenna and Frank to uncover the secret location from the Teamsters lead by Mickey J.
[1]
This episode doesn't have Quotes yet. Please add one!
Pop Culture
Edit
Hillary Clinton is a Democratic politician who ran in the Democratic primaries.
"God bless us, everyone," is a line from the Dickens story A Christmas Carol.
The quote "The only thing necessary for evil to triumph is for good men to do nothing," is actually attributed to Edmund Burke.
Frank's hat says "Speling Expirt", "Head" (in a flashback), and Sumo Dog.
This episode doesn't have a cast listing yet. Please add one!
Guest Starring
Edit
Co-Starring
Edit
External Links
Edit
This episode doesn't have external links yet. Please add one!
References
Edit
↑

NBC Press Release – May 1, 2008
Season One

Episodes

Season Two

Episodes


Season Three

Episodes

Ad blocker interference detected!
Wikia is a free-to-use site that makes money from advertising. We have a modified experience for viewers using ad blockers

Wikia is not accessible if you've made further modifications. Remove the custom ad blocker rule(s) and the page will load as expected.