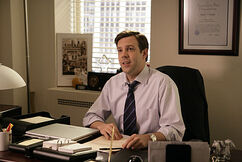 Floyd DeBarber, portrayed by Jason Sudeikis, was Liz Lemon's boyfriend during the end of Season 1. Before dating Lemon he was with Liz Lemler. Floyd formerly worked in 30 Rockefeler, but has since moved back to his hometown of Cleveland. After an attempt at maintaining a long distance relationship, he and Lemon broke up. Floyd later moved back to New York to marry another woman.
Floyd's name is a reference to the character of Floyd the Barber from The Andy Griffith Show.
Ad blocker interference detected!
Wikia is a free-to-use site that makes money from advertising. We have a modified experience for viewers using ad blockers

Wikia is not accessible if you've made further modifications. Remove the custom ad blocker rule(s) and the page will load as expected.