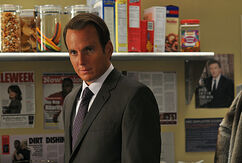 Believing that Liz's (Fey) work schedule may be too hectic for her to adopt a child, adoption agent Bev decides to make a visit to set. Liz begs her co-workers to try to act "normal" for a chance, but chaos ensues amid an escalating feud between Jenna and Tracy. Meanwhile, Jack is back at 30 Rock to reclaim his position from Devin Banks, but quickly learns the task won't be easy when he is given a sizeable demotion. Jack vows to do whatever it takes, even if it means sacrificing his self-respect, to make it back to the top.
[1]
This episode doesn't have quotes yet. Please add one!
Pop Culture
Edit
Colin Firth is an actor well-known for acting in "rom-coms".
O.J. Simpson is a retired football player who was charged and aquitted of murdering his ex-wife.
Jenna's stalker "Yolanda" may be a reference to Yolanda Saldivar who was convicted of first-degree murder after shooting and killing Tejano superstar Selena in March of 1995.
Frank's hats say "Former Cyclops," "Horny,"
The episode could secretly be mentioning the 1995 murder of Tejano singer Selena Quintanilla-Perez, Jenna's stalker "Yolanda" could be referring to Yolanda Saldivar who was convicted of shooting Selena. When Jack says "working that graveyard shift at that Days Inn" he could be referring to Selena being gunned down at a Days Inn in Corpus Christi, Texas.
This episode doesn't have a cast listing yet. Please add one!
Guest Starring: Megan Mullally, Will Arnett
Edit
Co-Starring
Edit
External Links
Edit
This episode doesn't have external links yet. Please add one!
References
Edit
↑

NBC Press Release – October 30, 2008
Season One

Episodes

Season Two

Episodes


Season Three

Episodes

Ad blocker interference detected!
Wikia is a free-to-use site that makes money from advertising. We have a modified experience for viewers using ad blockers

Wikia is not accessible if you've made further modifications. Remove the custom ad blocker rule(s) and the page will load as expected.