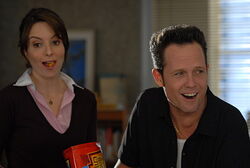 Dennis Duffy is the eccentric and mostly terrible, sometimes boyfriend to Liz Lemon. He is played by Dean Winters. Liz had dated him most recently in season 1 ("Jack Meets Dennis," "Tracy Does Conan" and The Break-Up). Liz's pros and cons list deciding her future with Dennis was ultimately tipped to the negative after she found out he had tried to have sex with a minor.
In spite of Liz's rejection, he returns in season 2 as the Subway Hero. He seemed to have impregnated Liz in "Cooter." He has had guest appearances in subsequent seasons.
Dennis plays Halo under the pseudonym "Slut Banger."
Ad blocker interference detected!
Wikia is a free-to-use site that makes money from advertising. We have a modified experience for viewers using ad blockers

Wikia is not accessible if you've made further modifications. Remove the custom ad blocker rule(s) and the page will load as expected.