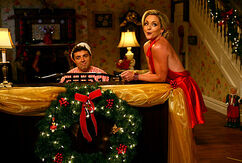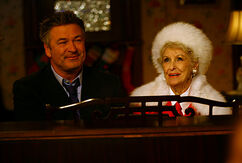 THE CHRISTMAS SPIRIT TAKES OVER 30 ROCK AS LIZ (TINA FEY) ATTEMPTS TO FULFILL CHILDREN'S CHRISTMAS WISHES, AND JACK'S PLANS FOR ONE CHRISTMAS AWAY FROM HIS OVERBEARING MOTHER ARE FOILED DUE TO A FREAK ACCIDENT. ELAINE STRITCH GUEST STARS — Only days before Christmas, Liz's parents ditch her to celebrate the holidays at a couples-only retreat, leaving her all alone for the holiday. To fill the void, she participates in a charity program, "Letters to Santa," to help underprivileged kids have a nice Christmas. Meanwhile, Jack takes his frustration out on the TGS staff when his plans for a dream holiday vacation away from his overbearing mother, Colleen, are crushed. The TGS crew are forced to give up their plans to produce a last minute Christmas special. [1]
This episode doesn't have quotes yet. Please add one!
Pop Culture
Edit
"Shark Farts!" -Liz Lemon
This episode doesn't have notes yet. Please add one!
This episode doesn't have a cast listing yet. Please add one!
Guest Starring
Edit
Co-Starring
Edit
External Links
Edit
This episode doesn't have external links yet. Please add one!
References
Edit
↑

NBC Press Release – December 11, 2008
Season One

Episodes

Season Two

Episodes


Season Three

Episodes

Ad blocker interference detected!
Wikia is a free-to-use site that makes money from advertising. We have a modified experience for viewers using ad blockers

Wikia is not accessible if you've made further modifications. Remove the custom ad blocker rule(s) and the page will load as expected.