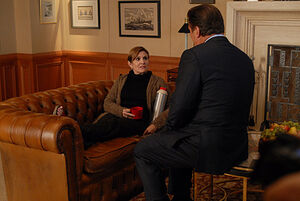 Carrie Frances Fisher
portrayed
Rosemary Howard
in the episode "
Rosemary's Baby
". Carrie Fisher (born October 21,1956) is an American novelist, screenwriter, actress, and lecturer.
She is most famous for her portrayel of Princess Leia Organa in the original Star Wars trilogy, her bestselling novel Postcards from the Edge, for which she wrote the screenplay to the film of the same name, and her autobiography Wishful Drinking.
Ad blocker interference detected!
Wikia is a free-to-use site that makes money from advertising. We have a modified experience for viewers using ad blockers

Wikia is not accessible if you've made further modifications. Remove the custom ad blocker rule(s) and the page will load as expected.